TBTC Victoria West / Business Product Range / Apps / Office 365 / Office ProPlus
Office ProPlus
Office ProPlus is the traditional and familiar desktop software you and your business are used to which includes: Word, Excel, PowerPoint, Access, InfoPath, OneDrive, OneNote, Skype for Business and Outlook. It's the same software, but paid for in a different way. Office ProPlus is basically a subscription to the latest version of Microsoft Office, currently "Office 2016".
Getting Office ProPlus from Telstra means the monthly subscription charges go onto your existing Telstra account, so less bills to pay.
Pay per user, not per computer: Unlike traditional Office though you do not need to purchase your software per computer, you are able to purchase per staff member. No longer will you have to pay hundreds of dollars upfront for Microsoft Office software to install onto a single computer. Wouldn't it be better to pay for only the number of employees you have working right now? With Office 365 ProPlus, you you only pay for Microsoft Office for the people that you have working in your business. If someone leaves, you can reduce your monthly licenses, and when you increase your staff levels we can easily add a new license within minutes.
Install on up to 5 devices: Each license allows your staff members to install Microsoft Office on up to 5 PC's or Mac's. For your staff who work in multiple locations or sometimes work from home you can install the full Microsoft Office suite on both computers without any extra cost. So regardless of the device they use, they can be work using the latest version of Microsoft Office. The license can even be used to activate Office 365 applications for Apple iPad devices, allowing users to download the Word, Excel and PowerPoint Apps for iPad.
You'll always have the latest software: Do you have different versions of Microsoft Office within your workplace? By paying for Microsoft Office via Office 365, it means you'll always have the latest software, and able to open the latest versions of Word documents or Excel spreadsheets. You won't have to save to an old version to email to a colleague running older software. As your customers or suppliers start using the latest version of Office you won't be stuck using old software in your business.
Upgrades included: Office 365 ProPlus allows you to upgrade to new versions of Microsoft Office when they are released. Your whole team can use the latest Microsoft Office version (eg: Office 2016), and when Office 2018 are released, you can easily upgrade at no cost. This keeps all computers in your business using the latest software which have the latest features. Scroll down to see some of our favourite features of Microsoft Office 2016.
Fast, Easy, Streaming installation: The installation process has never been easier, with the Microsoft Office software downloadable from the Internet. No more worrying about license keys, or finding CD/DVD for installation. You can even start using your Office software while the rest of the download completes using new "Streaming Click-To-Run Technology" from Microsoft. So if you purchase a new computer you can have it up and running with Microsoft Office software within minutes.
If your business is still using Office 2003, Office 2007 or Office 2010 you could be missing out on some time saving features or new tools to make life easier. Move your business to the best value, feature packed version of Microsoft Office yet. Check out our favourite features below: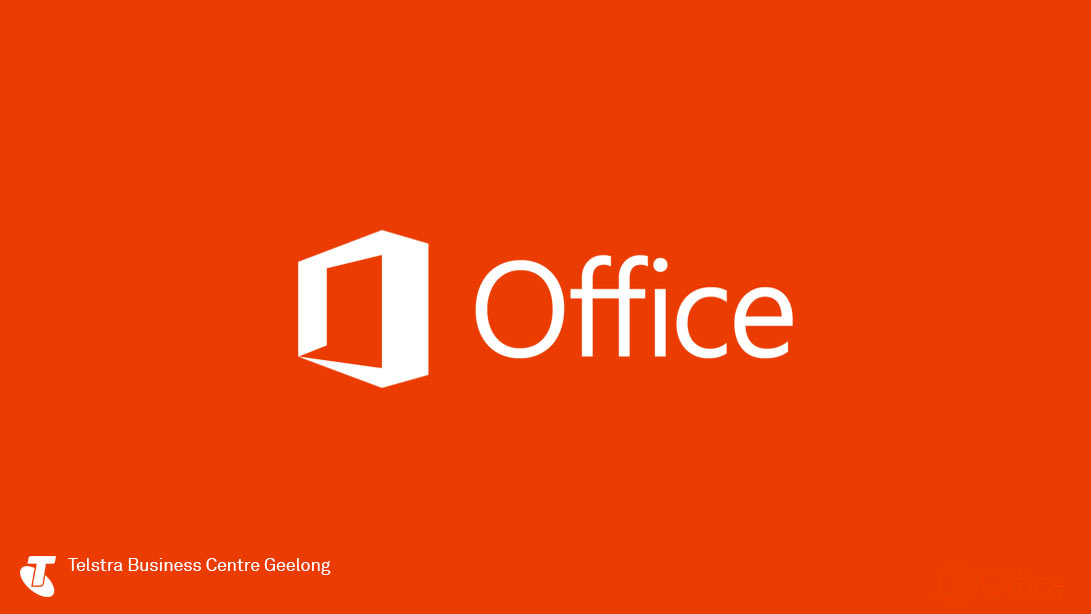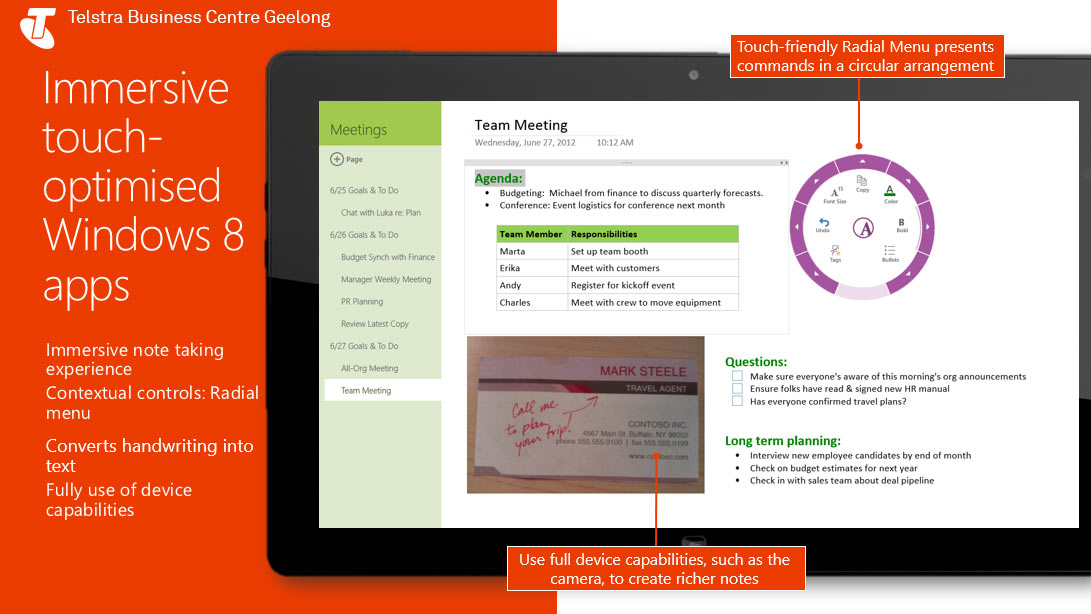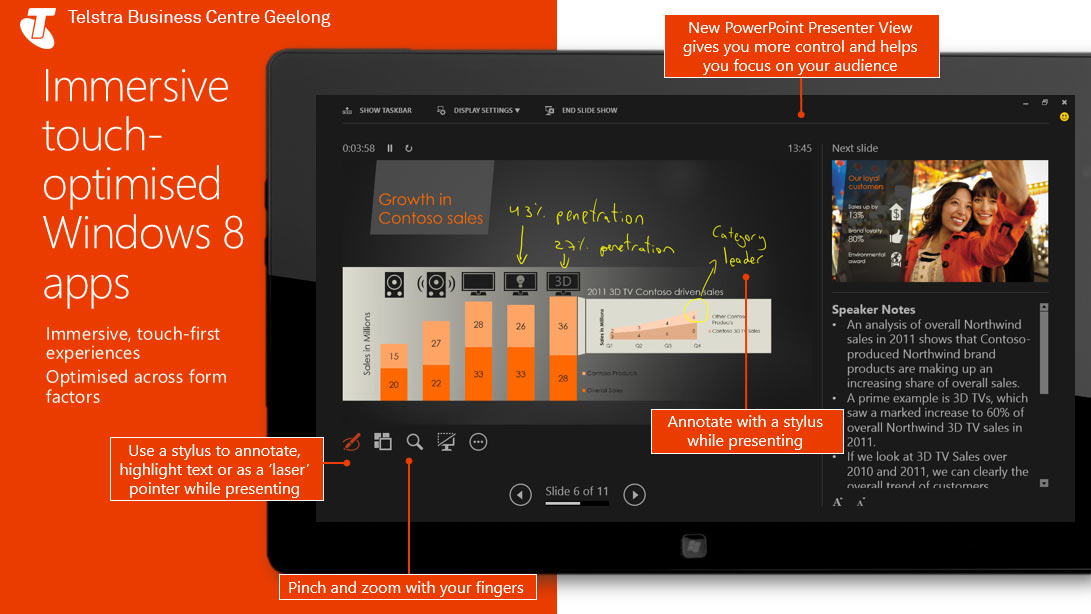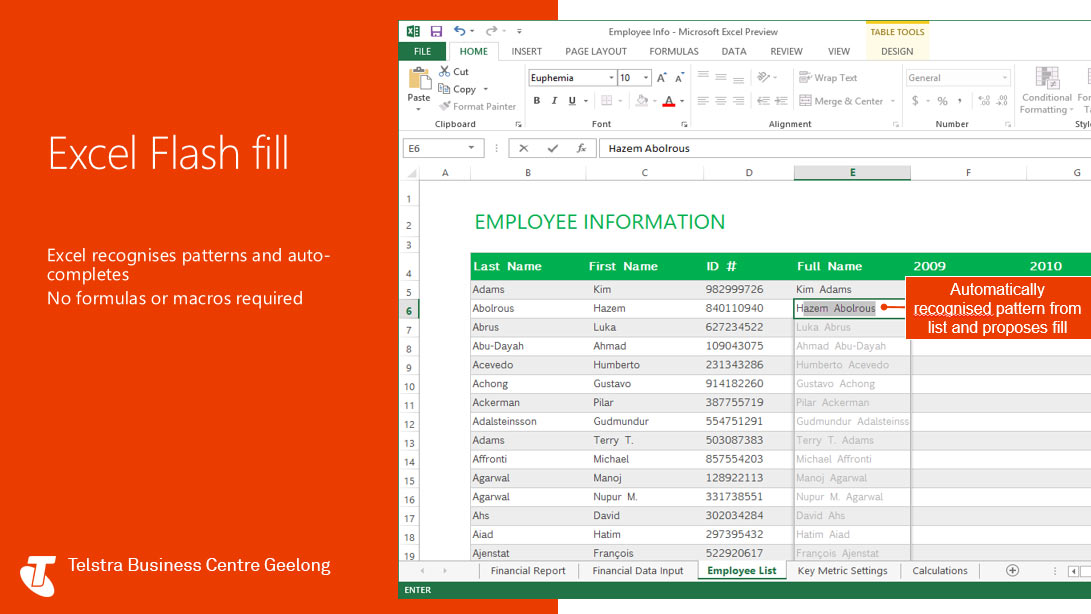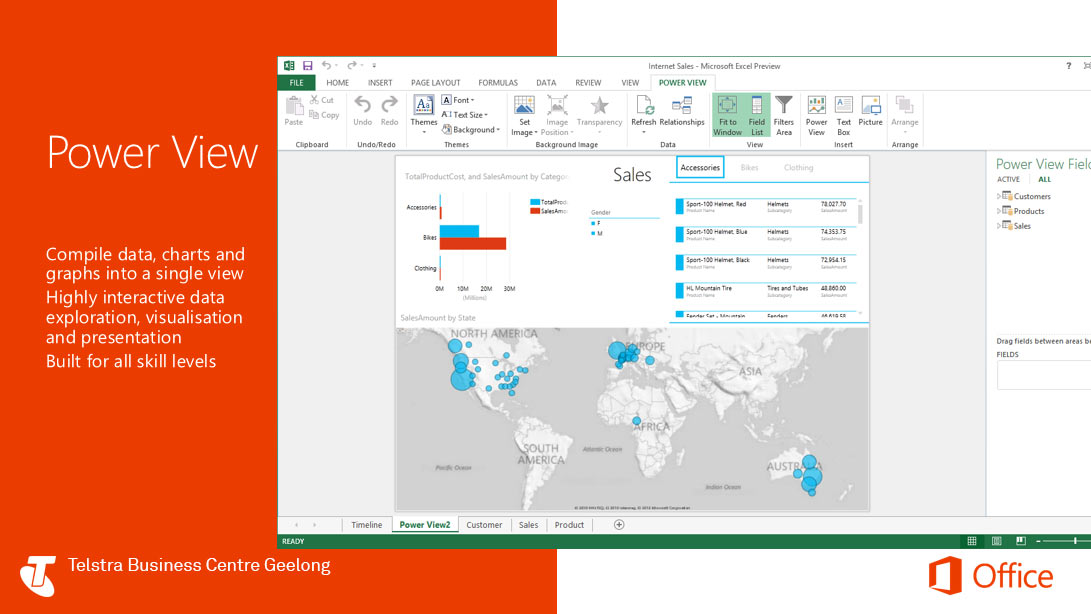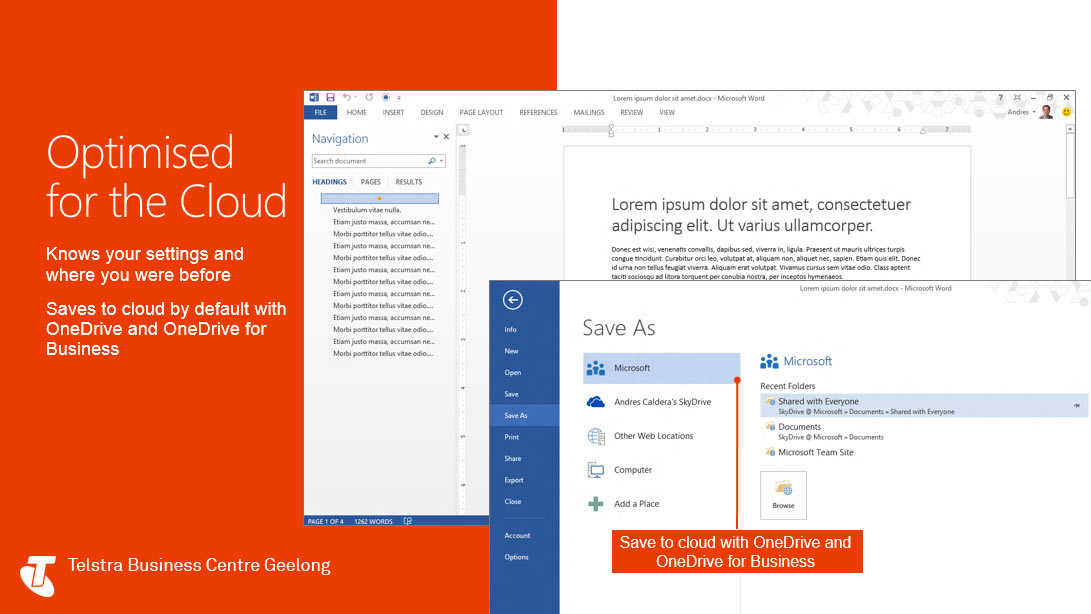 We are here to help
Our Cloud Team are available to sit down with you to discuss your needs and pricing options to make sure you get the most out of your Office 365 ProPlus subscription. We can:
Simply order the products for you

Complete onsite or remote installation

Give pricing advice on the best value license costs/packages

Add these services to your existing Telstra fixed line bill

Provide onsite or remote Training on Microsoft Office Products so you can get the most out of your services. You'll be surprised with what the latest tools will allow your team to achieve
Telstra Business Technology Centre Victoria West are your local Microsoft Office 365 experts in Geelong and the Victoria West region.